News
6 Benefits of Using SOTI MobiControl in the Warehouse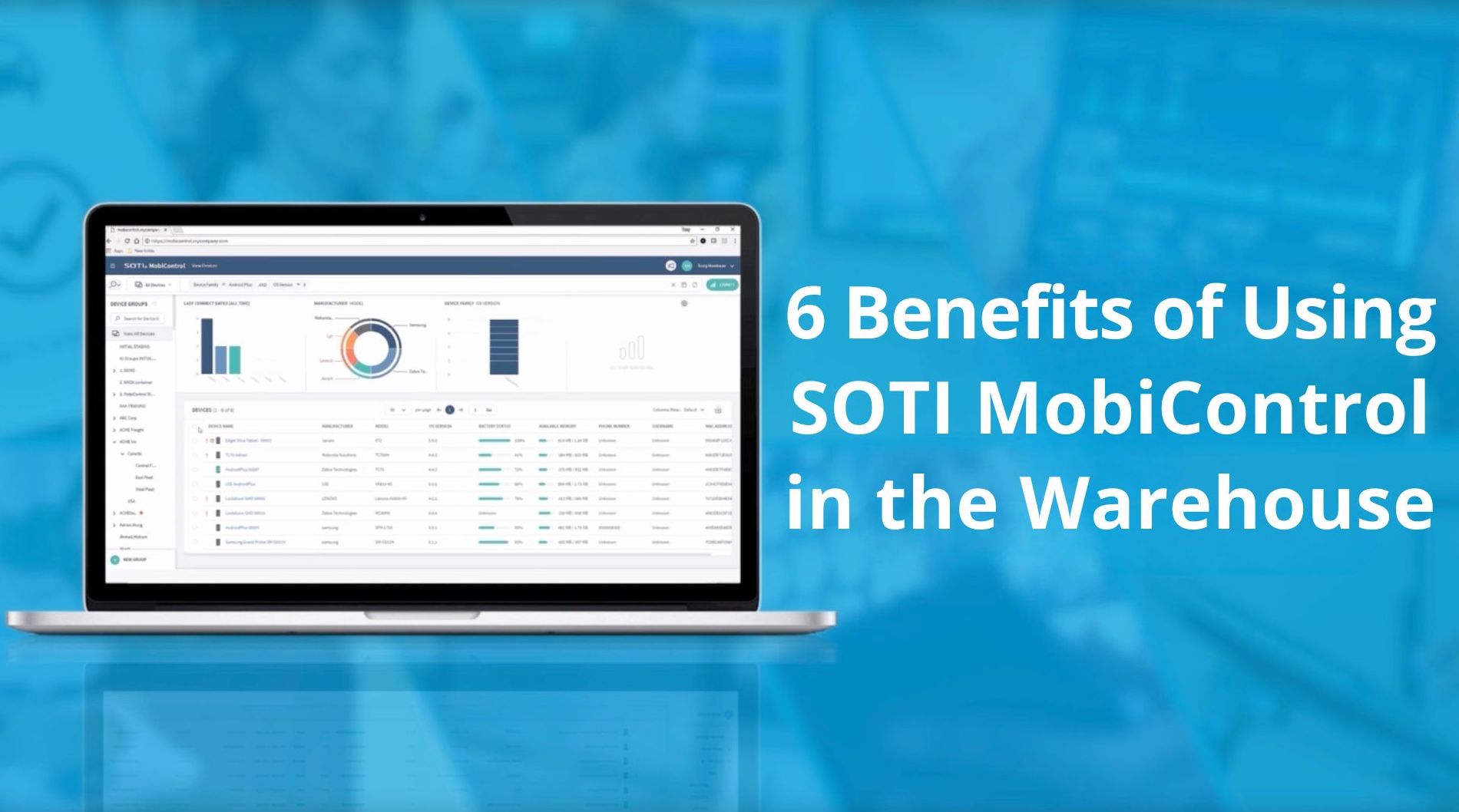 Are you looking for a streamlined mobile device management (MDM) solution to manage all of your warehouse scanning devices remotely? Look no further than SOTI MobiControl. This software can take your warehouse to the next level with app management, remote monitoring, and more.
What is SOTI MobiControl?
SOTI MobiControl provides an effective way to manage your warehouse scanning devices. More specifically, this Enterprise Mobility Management (EMM) solution gives you insight into what your scanning devices are doing, how they are performing, and any security risks they might be facing.
What Can SOTI MobiControl Do?
Available for Apple, Android, and Windows operating systems and compatible with over 200 device manufacturers, this software can do a lot for your warehouse, including:
Install Applications
Lockdown Desktop
Remote Control Devices
Upgrade the Firmware
Lockdown Browser
Monitor and Organize Devices
Let's take a closer look at each of these items.
SOTI OVERVIEW:
HOW TO SETUP A PROFILE
Manage Applications
SOTI MobiControl makes app management simple. It delivers the right apps to the right employees through the Apple App Store and Google Play. Then, it can configure installed apps and make them ready to go for end users. Its ability to utilize blacklists and whitelists to control corporate app availability is extremely useful.
Lockdown Desktop
This software allows you to configure desktops so that users can only access authorized applications, which can be customized for each user. Learn more about lockdown configurations.
Remote Control Devices
Remote control devices on any HTML-5-based web browser for tablets and smartphones, even without reliable Internet. With SOTI XTreme Technology, you can even distribute apps and data to remote mobile devices 10X faster.
Upgrade the Firmware
SOTI MobiControl can remotely schedule and facilitate firmware upgrades for multiple devices at once, streamlining the once time-consuming upgrade process.
Lockdown Browser
Similar to SOTI MobiControl's ability to lockdown desktop interfaces, it can also lockdown browsers so that users can access applications and device features authorized by administrators.
Monitor and Organize Devices
With SOTI MobiControl, you can know exactly where your devices are, what they are doing, how they are performing, and more. Its Indoor Location feature works in real-time so that you can even locate devices that are indoors.
Upgrade Your Warehouse with SOTI MobiControl Today
SOTI MobiControl offers valuable benefits for every warehouse. Our team is here to walk you through how it can serve the unique needs and challenges of your specific warehouse. Contact us today to learn more about SOTI MobiControl or schedule a free demo.