News
Trade in Devices to Minimize Upgrade Cost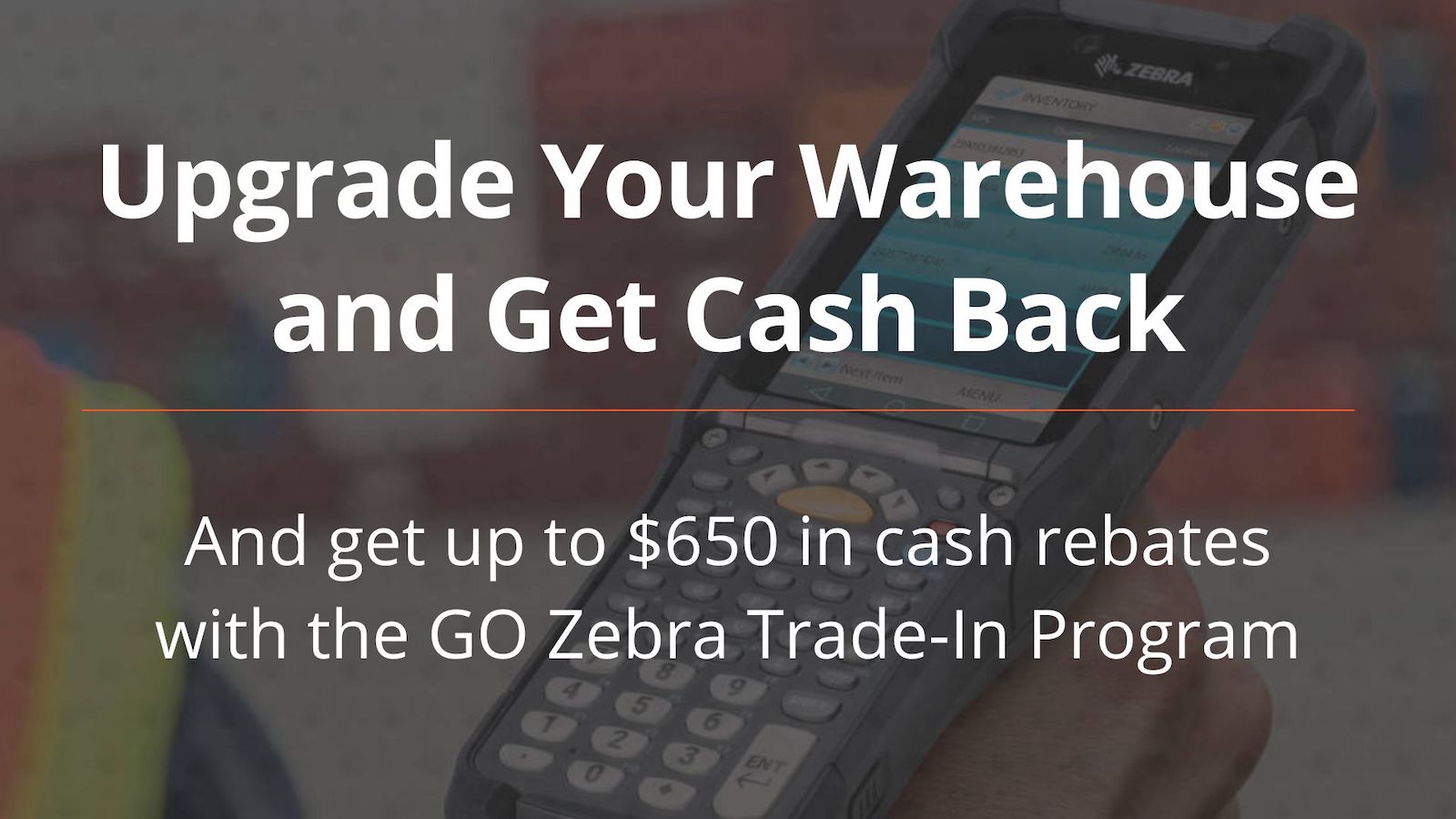 Upgrading the mobile technologies that power your operations is a big investment for any business. For this reason, it can be tempting to put technology updates on the backburner when it comes to business priorities. However, if you want to ensure that your company's mobile operations aren't getting bogged down by outdated hardware, it's crucial to upgrade these technologies every few years.
If your hardware is long overdue for an upgrade, you're in luck! Now through the end of the year, you can receive cashback for trading in a variety of Zebra warehouse equipment.
Trade in Devices to Minimize Upgrade Cost
Have you ever traded in an outdated smartphone to redeem credit toward a newer smartphone? The GO Zebra Trade-In Program works in a similar way, saving companies thousands of dollars (up to $650 per device). As a result, it is much more feasible for companies to upgrade hardware and reap the benefits of increased mobile speed, efficiency, and productivity.
Eligible devices include outdated mobile computers, barcode scanners, tablets, barcode label printers, RFID printers, and a wide array of other mission-critical mobile technologies, including:
Handheld mobile computers
Vehicle-mounted mobile computers
Rugged enterprise tablets
Smartphone-style touch computers
Industrial printers
Mobile printers
Select charging stations
Mobile printer batteries
Potential Savings
If your current hardware qualifies for a trade-in, you can save up to $25 per device on barcode scanners, $250 per device on mobile computers, and $650 on purchase card printers. Download our GO Zebra brochure to see all of your potential savings, and contact our team at Liberty Systems to find out if your hardware qualifies.
Why Upgrade?
Many companies need better mobile workflow productivity and efficiency. Outdated hardware with slower processors are obstacles to speeding up and optimizing mobile operations. Additionally, outdated hardware is unable to run newer and more efficient operating systems and apps, particularly when it isn't compatible with the latest enterprise OS platforms, such as Android. Using outdated OS platforms leaves businesses vulnerable with no future security patches, support, or updates.
The GO Zebra Trade-in Program offers an easy and cost-saving path to upgrade to fully supported and highly secure Android mobile computing devices. Devices feature touchscreen simplicity that makes workflows and scanning as simple as tapping a smartphone screen or swiping a screen to enter data.
Email our team at sales@libertysytems.com to learn more about how upgrading devices can streamline your warehouse processes.
Zebra's Comprehensive Portfolio
Zebra's complete portfolio of next-generation solutions can transform your warehouse operations. And thanks to the trade-in program, upgrading to these devices doesn't have to cost an arm and a leg. Check out a few of the devices that can take your warehouse to the next level.
The portfolio includes over 20 smartphone-style touch computers, rugged industrial handhelds, enterprise-grade tablets, and more. Thanks to Zebra's Mobility Extensions (MX), Android is now the new enterprise mobile OS of choice, with security tools that give companies control over every device, app, user access, and network connection.
Android's over-the-air updates make it easy to install the latest security patches and keep devices protected. Additionally, Zebra offers 10 years of guaranteed OS support and security updates with its LifeGuard™ for Android™ program, a huge relief for companies facing major security risks due to Microsoft ending all remaining support for Windows Embedded Mobile.
Barcode Scanners, Industrial Printers, & Mobile Printers
Some of our top recommendations in these categories include Zebra's 3600 Series Ultra-Rugged barcode scanners and 1D/2D imagers, which are virtually indestructible and built to survive almost any industrial application you can imagine.
Zebra's next-generation ZT Series printers and ZQ Series mobile printers provide fast, high-quality barcode label and RFID tag printing with advanced capabilities and easy remote management through a centralized cloud interface.
Trade in Your Outdated Devices Today
To learn more about these solutions and how to upgrade your mobile and data capture technologies with the GO Zebra Trade-in Program, download our brochure. If you have any questions about Zebra's program or devices, contact our team today.