News
Meet the ET40/45: A New Tablet from Zebra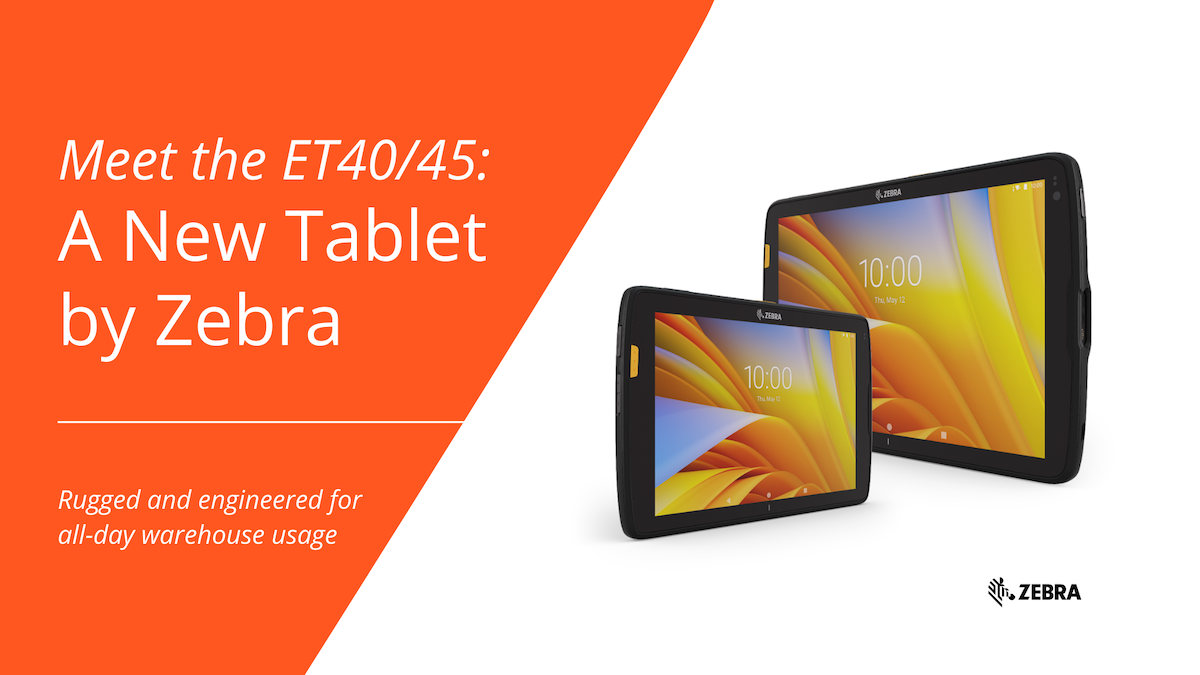 If you have been looking for the perfect replacement for your consumer-grade tablets, look no further. We are excited to introduce the ET40/ET45 enterprise tablets, new ruggedized tablets by Zebra that are designed to outlast and outperform consumer-grade tablets. Featuring a myriad of capabilities at an affordable price, these tablets are ideal for a wide variety of retail, delivery, and fulfillment environments.
The Hidden Costs of Consumer Tablets
At first glance, it's easy to understand why consumer-grade tablets are a popular choice for many companies: the price point. But if you dig a little deeper and consider the total cost of ownership, you'll find that consumer-grade tablets come with some hidden costs.
Cases
Because they aren't designed to be durable, consumer tablets need cases to protect them from the inevitable drops and, oftentimes, harsh environments they will endure.
Scanners
Need a barcode scanner for certain tasks? If you're using a consumer-grade tablet, you'll have to buy a separate enterprise scanner.
Frequent Replacement
Most consumer tablets have shorter life cycles than enterprise tablets. Not only do these tablets encounter performance issues earlier, but they also become antiquated faster, due to new consumer-grade models coming out annually or even more frequently. This leads to upgrading tablets more often.
Productivity
Did you know that consumer-grade tablets negatively impact productivity? These devices incur more lost network connections, costing 23 minutes of lost productivity per disruption and an overall productivity loss that is 2.5x higher than companies using rugged tablets.
ET40 & ET45 Features
You can see why consumer tablets might end up costing more than you think. But you're in luck. Zebra's new tablets combine everything you need in a tablet with the right price, so you don't have to choose between performance and affordability. We've highlighted just a few of their main features and capabilities below.
Swappable batteries
High-quality photos
Enterprise-class scanning
Payment ready with mobile POS
Bluetooth compatible
POS, workstation, two-way radio, and PBX handset capabilities
Three-year lifecycle
Ruggedized to withstand water, dust, drops, and more
Compatible with WiFi 6 and 5G for the fastest wireless connections
Exceptional customer support (for six years from sale date!)
ET40 vs. ET45: The Main Difference
The ET40 and ET45 are both thin, lightweight, and available with 8-inch and 10-inch screens. The biggest difference between them is that the ET40 tablet is WiFi only, while the ET45 can be WiFi or cellular. With this in mind, ET40 is ideal for indoor retail and hospitality environments, such as:
Assisted selling
Line busting
Point of sale (POS)
Inventory management
Staff management
Guest check-in
Restaurant wait staff
On the other hand, its cellular capabilities makes the ET45 ideal for delivery drivers and other field environments, such as:
Routing and dispatch
Proof of pickup and delivery
Invoicing/mobile POS
Inventory management
Parcel track and trace
Learn More About ET40 & ET45
The information we've shared today is just the tip of the iceberg when it comes to all the things that ET40 and ET45 tablets make possible. Connect with our team to learn more about these models and how they can benefit your business.
We have proudly partnered with Zebra Technologies for more than 10 years, and we have seen the unparalleled quality, reliability, and performance of their tablets firsthand. The Liberty Systems team is here to help you find the tablet that makes sense for your business, whether that is ET40/45 or a different model. Contact us today to learn more.