News
Transform Your Warehouse with Mobile Workstations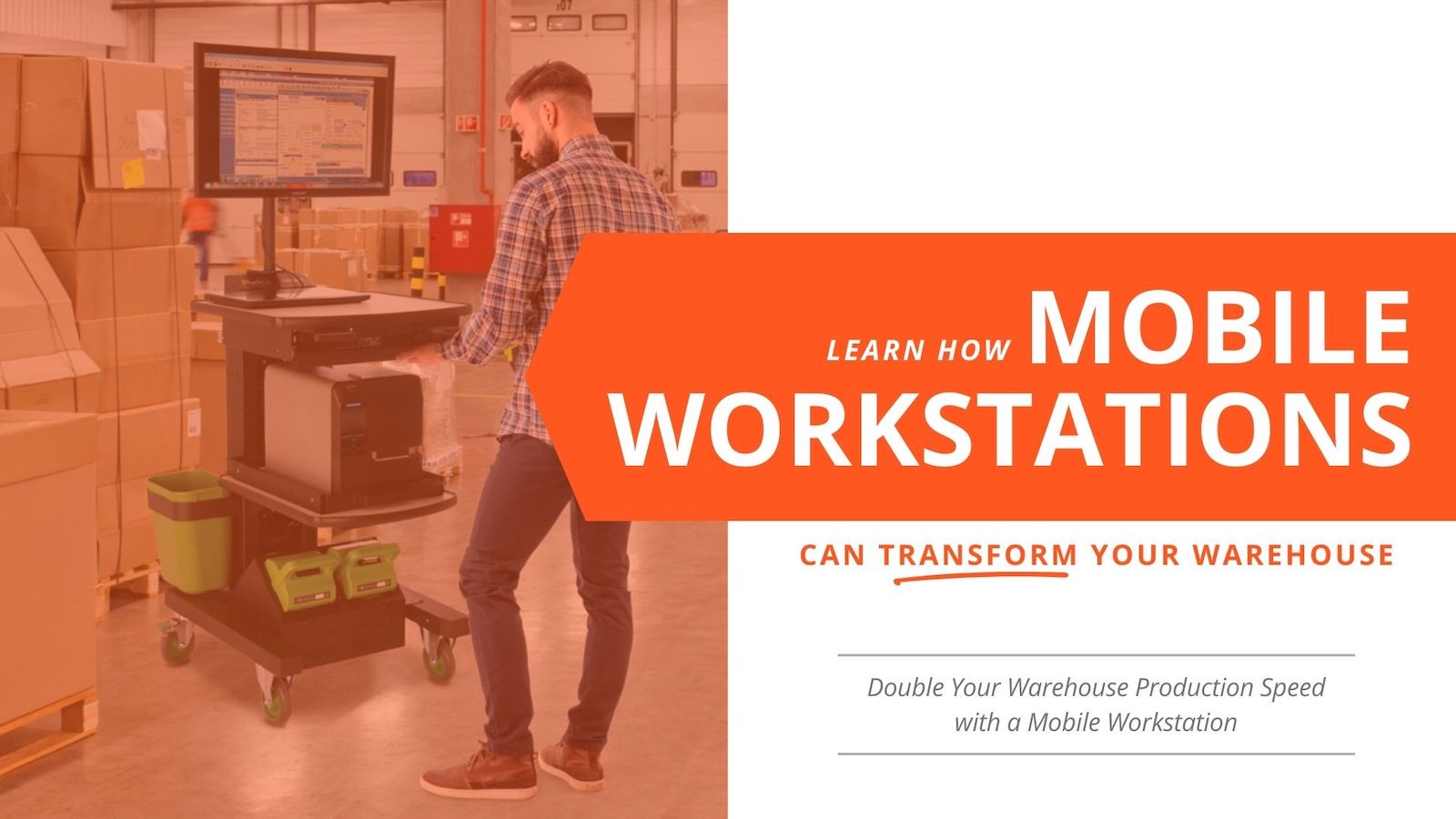 If you work in the warehousing industry, you already know that speed and accuracy are two of the most important qualities for success. In a world that is demanding faster turnaround times while expecting zero mistakes, warehouses should take advantage of every tool that can help achieve these things.
Enter mobile workstations. Mobile workstations speed up inventory processing while reducing errors, and they are available to all warehousing companies. If you're ready to take your warehouse to the next level with faster output and less errors, keep reading.
What are Mobile Carts / Mobile Workstations?
Mobile carts, also referred to as mobile workstations or mobile workstation carts, house label printers, scanners, and other key accessories like swappable batteries in one convenient place. While they can be utilized in a variety of applications, they are built for shipping and receiving warehouses.
There are three main types of mobile workstations: entry-level, mid-range, and heavy-duty. Some manufacturers also offer a slim version of the mid-range and an extended version of the heavy-duty version to accommodate unique warehousing scenarios. This variety of options makes it easy to find the right mobile workstation for your specific warehousing needs.
What are the Benefits of Mobile Workstations?
It is no exaggeration that mobile workstations are transforming the warehousing industry. One of, if not the, primary benefits of these solutions is the faster production output they provide. Watch this 60-second video to see how mobile workstations can double a warehouse's production speed while decreasing errors. With this kind of increased output, it is estimated that warehouses will see a positive ROI per employee/workstation in less than six months.
If that kind of ROI isn't enough to prove the benefits of mobile workstations, take a look at some of the other benefits they bring to the table.
Faster data capture and inventory management
When employees don't have to walk back and forth throughout their entire shift, they can perform tasks like data capture and inventory management much quicker.

Improved efficiency and accuracy
With a label printer, scanner, and easy access to the warehouse management system all in one place, employees can work faster and better. Rather than walking back and forth all day long to print labels, they can stay in one spot. Mobile workstations streamline processes and eliminate room for human error.

Better return processing
Return processing can put a kink in warehouse operations. With mobile workstations, it's easy to set up a designated area for return processing, so that all returns are handled in one area.

Safer operations
When using mobile workstations, employees don't have to walk back and forth throughout the warehouse as much. Reduced foot traffic decreases the chance of accidents at work, due to less fatigue and less opportunity to trip on extension cords or other items.
As you can see, no matter how big or small your warehouse is, it can benefit from mobile workstations.
What are Key Considerations When Looking Into Purchasing Mobile Workstations?
Before you purchase any mobile workstations for your warehouse, there are a few questions you should ask yourself. Answering these questions will help you land on the solution that is ideal for your unique warehousing needs.
What size and durability is needed?
Will you need a heavy-duty workstation or a slim version? Noting special requirements like these upfront helps narrow down your options.

What battery length is needed?
How long do you need your workstation to last at a time? Some models have hot-swappable batteries available, so you don't have to worry about a dead battery interrupting your workflow.

Is a more custom solution needed or can an out-of-the-box workstation work well?
Using an out-of-the-box cart will be more cost-effective, but it might not feature all the capabilities you would like. Make a list of must-have features and nice-to-have features, and see if there's an off-the-shelf solution that meets your needs and preferences. If there's not one on the market, we can work with you to find a custom solution.

Do you need cold storage?
Not all mobile workstations are designed to operate in low temperatures. If your warehouse is designed for cold storage, you will need to choose a mobile workstation that can handle low temperatures.
Find the Right Mobile Workstation for Your Business
With different sizes and brands of mobile workstations available, it might seem overwhelming to find the one that's right for your warehouse. For example, the most popular workstation at the moment is the Newcastle Mid-Range NB Series Powered Workstations, but that doesn't mean it's the ideal solution for every warehouse situation. DTG also manufactures mobile workstations that many businesses use and love, and other companies offer reliable solutions as well. Before you choose a workstation, you should have the opportunity to consider all the options available.
We'd love to sit down and discuss how you can boost profits and productivity with a mobile workstation that makes sense for your business. We will take the time to understand your primary needs, address any concerns, and answer any questions you might have before recommending a workstation. Contact us today to get started.